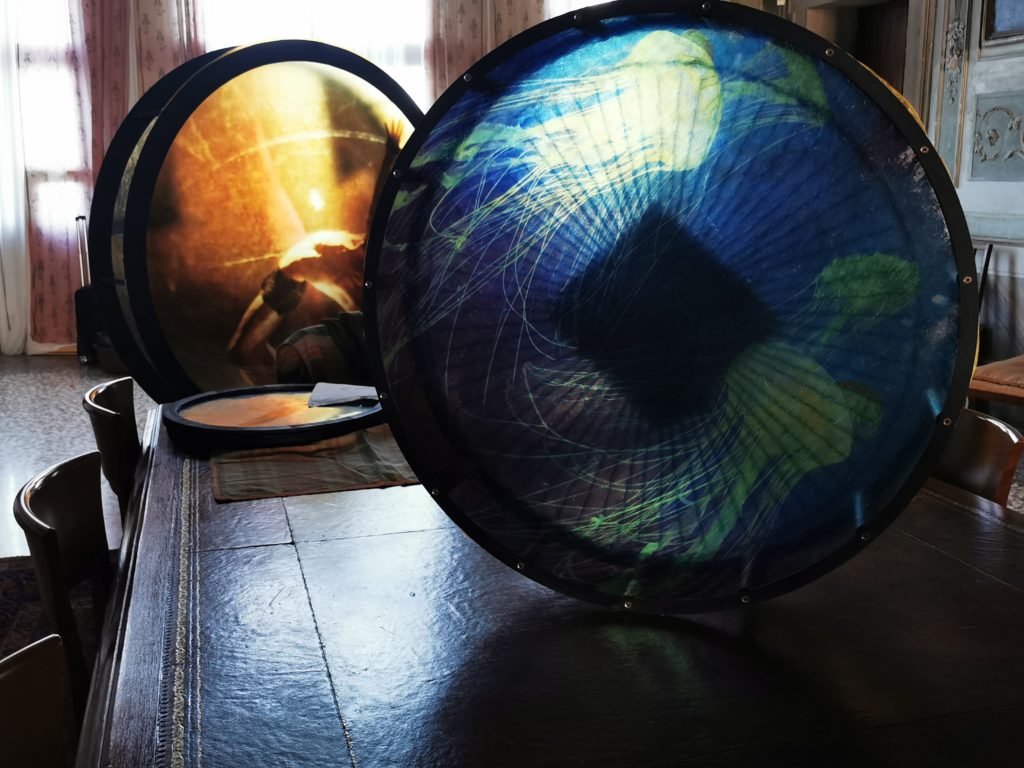 The series Drums and small armillary spheres, called progeniture, are works of different sizes from 30 cm to 200 cm perfectly self-supporting built both in wood and in iron, in copper and in brass which, as for the other works, play with reflections of the work on the ground or on the support on which they are placed, amplifying the infinite space contained within the work itself.
Some works of the drums series have a sound sensor inside which, when approaching, the sound attributed to this infinite space comes out. The sound in question is a musical work born from the union of Rosa Mundi with the composer Mario Bajardi. A long-standing artistic union that has characterized the path of the two artists in the last six years and which, in a certain sense, in these works embodies the strength and the lyric that has always distinguished them in the international art and video panorama art. Rosa Mundi has in fact written and directed numerous musicals, as well as video installations, small and large short films, in which she has frequently involved the musician in Italy and abroad.
But the drums are a real evolution of the armillary spheres and the box series. Also in this case the artist creates a historical and emotional link between the present, the past and the future, where memory reigns supreme between the fibers of his works and the viewer's gaze. Inside the frames of the circles (of wood, iron or brass) Rosa Mundi engraves the message of which the work is the bearer and ferryman, like a sort of guardian, the collector.
The message is part of the work and is contained in it, as well as kept in the artist's registers in the book of his atelier, in the Castello di Morsasco.
Mario Bajardi's music, specific to each work, adds a sound lyric to the infinite space that Rosa Mundi creates in her work.